The Ladybird's Worldwide Adventures So Far!
24 May 2018
This summer at The Stables we are going to be learning all about the World with the help of our favourite book, What The Ladybird Heard, by Julia Donaldson.
The ladybird has been very busy, flying around the world, listening for news to share with us!
We have been asking family and friends of The Stables to send postcards to our nursery from around the world with the words "I am the ladybird and I heard…" with a sentence telling us about the country or city the postcard was sent from. We will pin our postcards to our world map to see just how far our ladybird has travelled!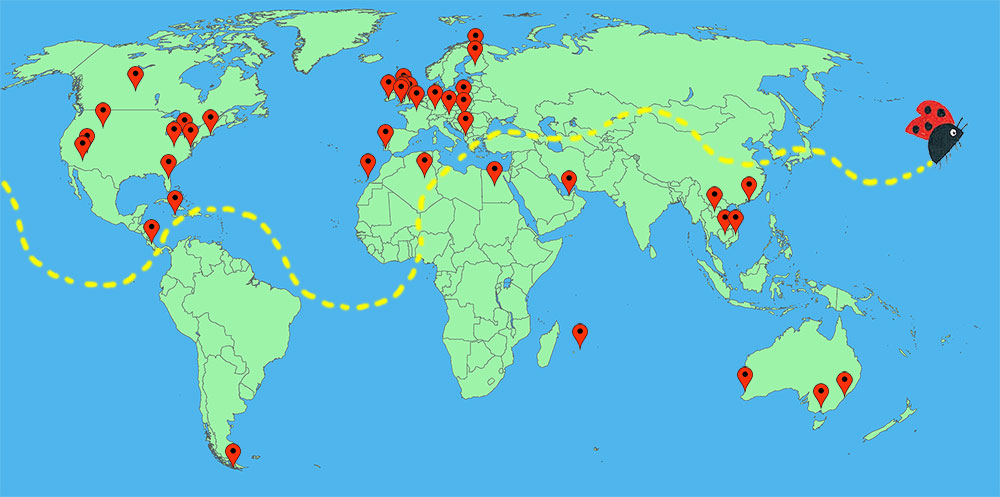 The ladybird has been keeping the Postman very busy so far! We have received nearly 100 postcards, from 27 different countries… and can you believe that one was from Santa Claus himself, all the way from Lapland!
Thank you so much to everyone who has helped so far. The ladybird is excited for more adventures, so please keep the postcards coming to us here at The Stables using the address below:
Stables Nursery School
Grimsditch Lane
Lower Whitley
Warrington
Cheshire
WA4 4ED
Here is a list of places the ladybird has visited so far!
Abu Dhabi
Albania
Algarve, Portugal
Australia
Austria
Bryce Canyon, USA
Budapest
Cambodia
Canada
Conwy, Wales
Costa Rica
Cumbria, England
Derbyshire Dales, England
Dubai
Egypt
Finland
Florida (Walt Disney World), USA
France
Germany
Hong Kong
Ireland
Isle of Wight
Jamaica
Kent, England
Kentucky, USA
Killarney, Ireland
Krakow, Poland
Lanzarote
Laos
Lapland, Finland
Llanfairpwllgwyngyllgoger ychwyrndrobwyllllantysili ogogoch, Wales
London, England
Mauritius
Melbourne, Australia
Monument Valley, Arizona/Utah, USA
New York, USA
Ohio, USA
Paris (Euro Disney), France
Patagonia, Argentina
Perth, Australia
Rhode Island, USA
Scotland
Sedona, Arizona, USA
Sherborne, England
Shropshire, England
Stuttgart, Germany
Sydney, Australia
Tarporley, England
Teignmouth, England
Vietnam
Wales
Warrington, England
Washington DC (NASA), USA
Whinfell Forest (Center Parcs), England
Windsor (Legoland), England
Yellowstone National Park, USA
Please keep the postcards coming!
---