Turning The Dreaded Car Journey Into A Fun Memory
4 July 2016
Growing up we can all remember vividly the things we liked and more importantly the things we disliked as we embarked on our learning journey through the early years. For me, my parents desire to travel Europe with a caravan in tow meant endless hours of being trapped in a metal box with wheels on it whilst being subjected to endless power arguments about which of my parents were the superior navigator, and trillions of games of 'I spy with my little eye,' designed to actively engage my imagination and momentarily keep me occupied.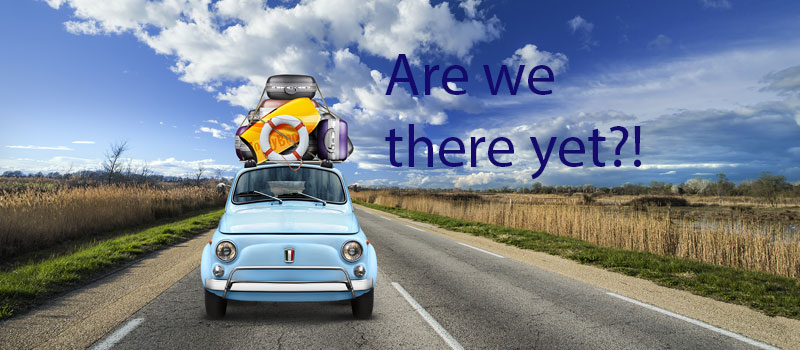 I soon learnt to be a master at 'I spy' and relished my attention to detail by outsmarting my parents with the word 'oxygen' which caused a full on family argument somewhere between France and Spain!
Now, twenty ish years older and wiser perhaps (although, still the reigning 'I spy' champion!) I started to think about how parenting has moved on over the years and how we in turn can make the most of our day-to-day activities and turn them into quality educational opportunities where children can continually learn through play.
Let's look at the theory, studies have shown and been proven that play-based activities designed around children's individual interests provide not only an engaging and stimulating way for children to develop a vast array and range of skills, but also it provides them with the opportunity to investigate the world around them. These kinds of child and adult initiated activities are crucially important in developing self-confidence, self- esteem and establishing in children a healthy curiosity and desire to explore and learn. The key here is variation, mix up the games the activities and the stimulation, if only my mother had thought to improvise, 'I hear with my little ear….something beginning with... S... SUE SAYS... NO MORE EYE SPY!! Now that would have spiced it up a little!

Back to the serious stuff... Children at a young age soak up knowledge and can retain information and memories at a very early age, and positive and stimulating experiences at an early age can provide the foundation for future success later in life.
Structured play-based activities are an important concept that we utilize in our nurseries, and with a little thought, parents can turn simple everyday routines, such as the car ride or a trip to the beach, into engaging and productive learning opportunities. It becomes fun and learning through play using fun as the tool to extend children learning is a technique not to be missed.
I gather at the moment however, the thought of a long car journey with your little ones in tow, or any car journey with the frequent question "are we nearly there yet" can be off putting before the journey has even started, but honestly car journeys really don't need to be that stressful.
Any car journey whether it is a compulsory appointment, a trip to the supermarket or a longer car journey to visit family can be stress free. With a little bit of planning and a little bit of imagination you will soon have your child's full concentration which is perfect quality time together, so turn off the radio and get ready to play.
First things first we need to look at the basics to give you some tips on how car journeys can become simpler. If your trip is more for leisure rather than the school run, then maybe consider:
Travelling at nap times
Try to avoid key times of the day for traffic such as rush hours
If the journey is longer consider frequent stops to both yourself and your little ones to stretch your legs.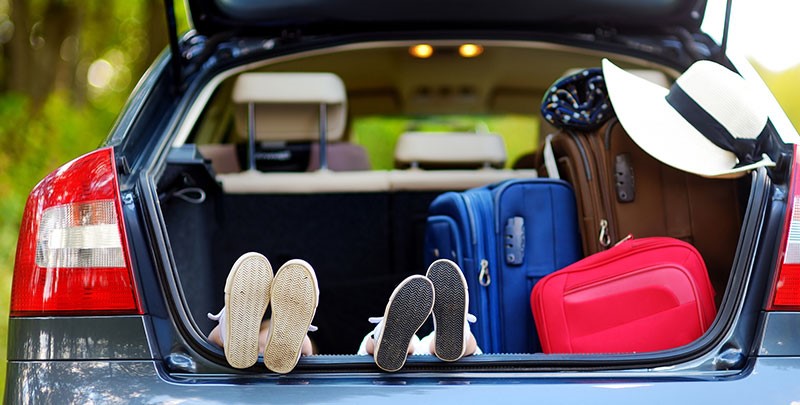 Toys and games are also a must have for any car journey. If you have a younger baby then ensure that any toys you have, have a clip or attachment device on them so they can either be clipped onto the car seat, door handle or the passenger grab handle as there is nothing worse than engaging your little one in a fun activity and as the journey begins, it falls on the floor!
Excellent activities for smaller children are:
Activity baby arch's as these clip over the car seat and give the little ones plenty to visually focus on, things to hold and touch, as well as sounds to listen to and create
Toys with clips are also great especially the ones that offer multiple activities such as laces, zips, sounds and squeezy options
Some toy manufactures now sell interactive toys that can be placed on the back of the passenger seat and baby can kick or even control with a device that your child can hold and move.
Additional options might also be:
A magna doodle as this offers the child lots of drawing and free time to play without distraction
A nursery rhyme or specialist children's CD that can be sung along to with all the family – add action songs to really stimulate physical development – If your happy and you know it clap your hands!!!
Books, and even colouring books for older children, can be nice and quiet activities.
Games for older children can capture and maintain the attention for longer periods of time and can be enjoyed by the whole family too. These can be anything from a game of I spy (groan flashback time!); the memory game 'we all went shopping' and new foods are repeatedly added to the shopping list to see who can remember the most products; a spontaneous car sing along or name that tune where someone taps out the beat of a familiar tune or song and the family have to guess that tune. Don't forget the car colour game where it's the first one to see a red car or blue car, although try and make it fair for all siblings – no one likes to lose 75 cars to zero!
For longer car journeys healthy snacks and refreshments are a must as these too can occupy a child for a period of time as well as fill rumbling tummies. If you are considering snacks and refreshments you must ensure that the snack is appropriate for travel and that the child is of an age where it is safe to eat in the car, or if you are travelling with others have some positioned next to your child. It might be a good idea to even use this as an opportunity for a short break. Healthy snack options could include anything from blanched vegetables, fruit sticks, or dry cereal in a tub to merely name a few.

In addition to the above, there are also a few other things you might wish to consider before you commence on your journey from a safety aspect:
Ensure that your car seat is properly fitted to offer the correct support to your little one; and straps should fit snuggly without a need for adjustment
Ensure your child locks are on
Ensure your child is wearing suitable clothing as in a car seat your baby or child can become quite warm
Ensure window shades are used in warmer months and that the car windows are used to offer fresh air and ventilation into the car.
These ideas for stimulating children through play can be applied in different settings – a trip to the beach can become an opportunity to develop sensory skills by asking about the feelings of textures, sounds, and sights. They learn about the world around them, use the outdoor environment so that children become familiar with nature, with seasons, with colours! Ask direct and indirect questions to get them thinking – What colour is sand? What does it feel like? Can you hold water in your hand? What happens if you pour water onto sand? Where does it go? The possibilities are endless but you actively wake up their inquisitive minds... just make sure you know the answers – I was stumped by my own gremlin with... Mummy, what noise does a giraffe make? I don't think she was very impressed with 'Well my darling that's for me to know and you to find out…phew' note to self... google when home!
Because of the ways that young children learn, simply by asking questions and engaging children in games and productive play, parents can help their children develop and grow.
But perhaps the most important thing is, by proactively taking part in these interactive opportunities, you will have more fun and enjoy this time with your little ones. Those childhood memories stay with us forever so together let's make them happy ones... I am now off for a game of 'I spy' in the office - something beginning with... O!
Kind Regards
Sue xx 
(Managing Director of Evolution Childcare)
---