Evolution Childcare to launch nurseries in China
5 July 2018
EVOLUTION CHILDCARE TO LAUNCH HIGH QUALITY BRITISH CURRICULUM CHILDRENS NURSERY AND PRE SCHOOL IN CHINA
XI LU and LUJIE FAN Directors of YING FU SHENG CORPORATE MANAGEMENT LIMITED have signed an exclusive master license franchise agreement with Evolution Childcare, the multi-award winning childcare provider in the UK to offer outstanding British Curriculum Education for children aged 4 weeks to 6 years across China. The first nursery is scheduled to open in September 2019.

Evolution Childcare was established 18 years ago by Sue and Rob Jones who carefully selected and developed a skilful and experienced management team dedicated to providing high quality childcare for children aged 4 weeks – 6 years. In this time, Sue and Rob have expanded the group, opened 6 Middle Eastern Nurseries in Abu Dhabi and Dubai, 2 Gulf Nurseries in Bahrain, 6 Franchises in the Uk and 5 of their own corporates Nurseries with their 6th opening next year.
Through Sue's leadership Evolution Childcare have become a Multi Award Winning Organisation with Sue herself being recognised by the Industry as 'One of the top 5 most influential' in the Sector. The focus has been her dedication to staff training and development to enable all staff to embark on continuous professional development, career advancement with attention to personal health and wellbeing.
The proprietors Rob and Sue also have considerable experience working with children. Rob Jones is an ex-Liverpool FC and England Professional football player who currently represents the Liverpool legends team and works as a Mentor at the prestigious Liverpool Academy working with the U18's and U23 team. Sue is an ex-professional Tennis Coach who is also a qualified NVQ 2,3 & 4 Nursery Nurse and has a BA Hons in Childhood and Early Years. They are also parents themselves, and have brought together enthusiastic, dedicated staff whose childcare credentials are second to none.
Official Signing Ceremony 1st July 2018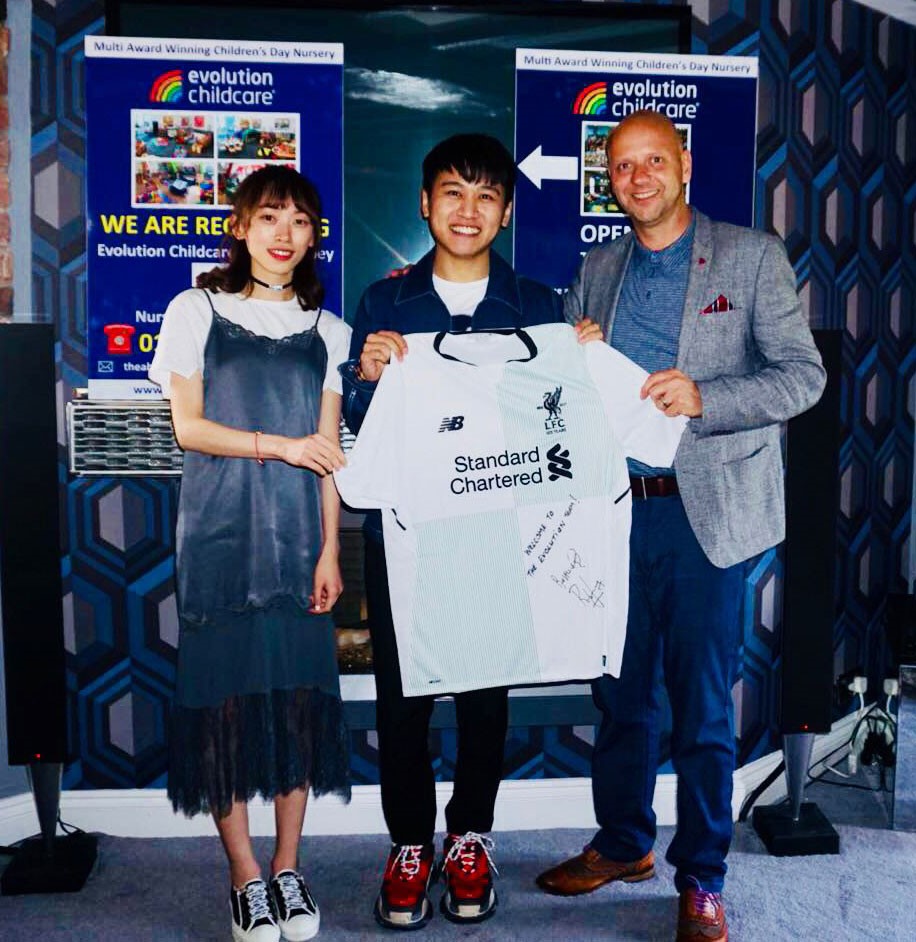 Left: LUJIE FAN (YING FU SHENG CORPORATE MANAGEMENT LIMITED) Centre: XI LU (YING FU SHENG CORPORATE MANAGEMENT LIMITED) Right: Rob Jones (Evolution Childcare)
SUE JONES COMMENTED
"In 1999 I established Evolution Childcare formally Kids Academy with a firm vision to provide the ultimate childcare experience for children, parents and families alike. This vision coupled with exceptional underpinning values and principles have enabled Evolution Childcare to be an innovative, progressive and award winning brand".
Sue continued, "Evolution Childcare stands out as the trailblazer for a new era of childcare. We underpin the philosophy that every child deserves the very best possible start in life and within an educationally supported environment can really fulfil their potential. It is a proven fact that a child's experience in the early years has a major impact on their future life opportunities and we are here to ensure our future generation are provided with the ultimate foundation to make the very most of their abilities and talents through play and the deliverance of the British Early Years Foundation Stage Curriculum".
"Staff Training and Development is a key requisite to Quality for our Organisation and it is through our thorough in house e-learning training, our intensive inductions and on-going staff reviews, performance observations and appraisals that we continually deliver the highest standards of care and optimum deliverance of the British EYFS Curriculum. Our team work extremely hard to put our principles and approach on the map and we would like to thank everyone to date for all the support, commitment and enthusiasm that has enabled us to be recognised by many childcare sector and business awards for the high standards that we set".
"We have introduced our very own Evolution Childcare Chinese Ambassador, Mrs Lori Lin who not only is a very successful UK Evolution Childcare Franchise branch owner, she also brings a wealth of local knowledge, Cultural advice and Provinces Government Educational knowledge that is crucial to the Uk-China Business success. We are extremely happy to be partnered with such dedicated and likeminded individuals with Xi Lu and Lujie Fan and we are now keen to emulate our own success with YING FU SHENG CORPORATE MANAGEMENT LIMITED".
XI LU SAID
"We are delighted to welcome Evolution Childcare to our country. Having observed many nurseries in the UK, we have chosen Evolution Childcare for its exceptional quality. Being one of the Chain Nurseries having almost all of its branches rated at OFSTED outstanding, we believe the years of experience and proven business model would excel in the Chinese market. Exploring further, Sue's unique curriculum with a strong passion to bring Childcare to the very best level moved us and put an end to our decision-making process. As we have always believed, only to learn from the very best."
He continues "Partnering the Evolution has been an excellent opportunity for us, obtaining holistic support from an experienced and well knowledgeable team. Enabling our team to deliver only the very best childcare experience for our children. Overall, we really feel that we are indeed standing on the shoulders of the giants."
---